Why Should You Have Your Carpets Steam Cleaned?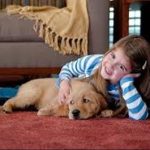 Steam cleaning is recommended by most carpet manufacturers and is also the only cleaning method that is truly a restorative clean recommended by the AS/NZS 3733.
Steam cleaning carpets removes spills and stains deep in the pile so there is less chance of them re-appearing.
Steam cleaning is much better at removing dust mites, allergens and killing bacteria in carpets than other methods.
Steam Cleaning Improves Indoor Air Quality
You might not normally associate carpet with improved indoor air quality, but it has a very positive effect. Gravity causes common household particles such as dust, pollen and pet and insect dander, to fall onto the floor. Carpet traps these particles, removing them from the breathing zone and reducing their circulation in the air – creating cleaner air to breath. Getting your carpets steamed cleaned regularly will ensure you and your family are breathing quality indoor air.
Reduces Soil Buildup
Soiling can occur by tracking in particles from outside like sand, clay, grass, leaves, and fibres. These contaminates enter homes or businesses, along with other airborne pollutants through open windows and doors.
It Provides A More Thorough Clean
Hot water extraction or steam cleaning provides a thorough deep clean that other methods like dry cleaning or bonnet cleaning can not. Why? Because dry cleaning only cleans the surface of the carpet and not the inner fibres where the dirt and dust particles hide. When hot water extraction is used, hot water is sprayed deep down into the fibres then the powerful vacuums suck up the water creating a rinsing pattern, leaving your carpet with a deep clean.
Steam Cleaning wont leave any soapy residue or chemical odours behind
Cleaning carpets with shampoos or a dry cleaning solvent can easily leave behind residues & odours of these cleaning chemicals. Hot water extraction (HWE) rinses the cleaning agents out and therefore leaves your carpet with a neutral pH balance and residue-free giving a softer feel every time. Steam cleaning carpets every 12-18 months is recommended by many carpet manufacturers and the Carpet & Rug Institute.
Quick Drying Times
Thanks to advancements in carpet cleaning techniques modern cleaning processes use MUCH less water and high power vacuums to achieve dry within 4-6 hours! Get a Bonnet Dry and you could reduce that dry time by half.
Steam Cleaning is A Healthier Carpet Cleaning Process
Our system sanitises and cleans deeper, leaving your carpets drier end extends carpet life. The benefits of less water usage combined with a powerful vacuums equals a lower risk of mould and mildew growth under your carpet from over wetting. This can often be the result when the too much water is used in the carpet cleaning process.
We use only superior cleaning products that are safe and non-toxic for your family and pets – giving you fresh and clean carpets in your home or business environment every time.
Area & Oriental Rug Cleaning
Area and Oriental rugs are like well-placed wall decor or fine paintings. They contribute to the overall character and often complete the furnishing of a well-decorated room. Rugs are often put down in high-traffic areas to decorate, liven up and even protect these living spaces. Like carpets and upholstered furniture, area rugs act as air filters for the home helping to trap dirt, allergens and bacteria and provide a cleaner breathing environment.
How often should I clean my area rugs?
Area rugs can only help trap dirt & allergens properly if they are maintained and kept clean. Just as an air filter for your home ventilation system needs to be regularly replaced, your carpets, upholstery, and area rugs need to be regularly cleaned.
At Suncoast Supreme Cleaning Services, we provide high quality area rug cleaning services, focusing on care and attention to detail, that restore the rugs to their original beauty while removing dirt and allergens.
For area rug cleaning we use specialised tools and equipment designed for whatever kind of rug you have. Whether that is synthetic, wool, cotton, silk or one of many other types we have the tools and skill to clean it.
Need your carpets or rugs cleaned?
Complete the Contact form to request a call back for a booking now.
---
Preparing your home for Carpet & Rug Cleaning
Step 1: Declutter
Remove any clutter from the area being cleaned. This includes things like shoes, toys, books, or anything else on the carpet area being cleaned. All of our cleaning include a pre-vacuum, and clutter can be a tripping hazard.
Step 2: Move light furniture
Where possible move light furniture out of the way. As carpet cleaning technicians we are experts at making your home fresh and clean, but we are not licensed to move furniture. Clearing the area of smaller things like plant stands, coffee tables, and floor lamps will allow us to better access all areas of your carpet. Unless you are vacating we don't suggest moving bigger pieces like beds or dressers as they should not be put back until carpet is dry.
Step 3: Put away fragile or valuable items
Our equipment requires the use of long vacuum hoses. If you have any fragile or valuable items in the area, you may want to move them to a safe location, out of the way. While we take the utmost care when cleaning your carpet, it is always wise to avoid any unnecessary risks.
Step 4: Note any problem areas you'd like the technician to pay special attention to
We do a pre-inspection and spot test before each carpet cleaning, but if there is a specific area you want us to focus on please let us know.
Step 5: Prepare your pets
If you have pets, make sure that they are kept in a place away from the area being cleaned. This will allow us to focus on the work of cleaning your carpet without having to worry about tripping over your pet.
Step 6: Provide easy access
Our equipment is mobile, but we still need to bring equipment inside, so a clear path to the carpet we are cleaning is essential.