Tile & Grout Cleaning
The lustre and gloss of tile & grout flooring diminishes over time. Some of the factors that reduce the shine and lustre of the floor can be minimised but others such as the age factor can't be prevented. Recommendations are that tile & grout cleaning should be performed regularly, but with incorrect or poor cleaning solutions more harm than good is done. Inferior cleaning solutions coupled with regular build up dirt and other contaminants could affect the floor appearance, making it look lifeless and worn out. As a result the floor ceases to serve its ultimate purpose of being aesthetically pleasing and appears imperfect in areas such as bathroom floors, showers, kitchen floors, hallways and outdoor living areas.
Rest assured you can keep your tile and grout looking fresh and alluring by getting a superior tile & grout cleaning service from Suncoast Supreme Cleaning Services. We can restore your tile & grout, giving it a fresh and bright appearance once again.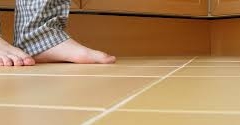 Benefits of our Tile & Grout Cleaning Service
With Suncoast Supreme Cleaning Services tile & grout cleaning services you are guaranteed the longevity of your tiles and grout. It is now common knowledge that debris and dust weaken the tiles and grout, reducing their overall lifetime. We use specialised tools & superior products to remove debris and dust that can weaken the tile & grout – your tiled floors will look newer and cleaner than ever!
Does your home or business need tile and grout cleaning ?
Complete the contact form and we will arrange to provide you a quote on your tile & grout cleaning requirements.